PENILE PROSTHESIS
1 out of 5 Spanish men suffer from erectile dysfunction and half of the medical sexual consultations treat issues related to it. Penile shockwaves are the most common treatment along with pills to induce erections. However, 15% of men do not respond to medication. In those cases, a penile prosthesis would be the best option.
Our team has broad experience in the national scene. Our specialists provide training to other professionals in this type of surgery, as they are considered leading experts by two of the most important companies who commercialize these products (Coloplast and American Medical Systems).
PROSTHESES
Three-component and hydraulic prostheses are the most common penile prostheses. They are made out of two cylinders, which are placed inside the penis. The cylinders are empty when the prosthesis is not activated. They can be filled at will by using an inflation pump placed in the scrotum.
Hydraulic prostheses allow maximum rigidity in erections and are inconspicuous when deactivated. They can be activated and deactivated at will, bringing spontaneity and confidence back to sexual relations.
THE PROCEDURE
The prosthesis is surgically implanted, through an incision in the scrotum. Post operatory lasts from 24 to 48 hours; sexual activity can be engaged after 6 weeks. For the most cases, no scars are left after surgery and the prosthesis remains unnoticeable when naked. Sensitivity, orgasm ability and ejaculations are not altered at all.
Penile prostheses bring rigidity back to the penis, normalizing sexual intercourse.
The prosthesis is maintenance free. The shelf life of a penile prosthesis prosthesis is around 10 years after its implantation. Commercial establishments provide lifetime warranty to the devices.

Blog del Dr. Romero-Otero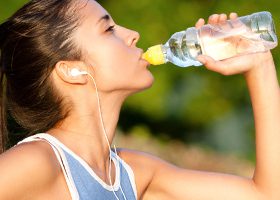 La hidratación recurrente y una dieta mediterránea equlibrada previene la litiasis. La hidratación en verano puede ser un buen aliado para cuidar que no aparezcan problemas urológicos y especialmente el tan temido cálculo renal. Es cierto que llegada esta estación la frecuencia de la ingesta líquida es mayor y la alimentación se centra más en […]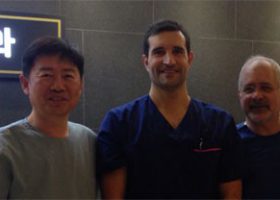 The program will include the implantation of penile prosthesis to treat several conditions. From the 8th to the 18th of January, I will be heading and organizing several activities in collaboration with Coloplast in some of the reference hospitals in Seoul and other important cities of South Korea. The program will include the implantation ofpenile […]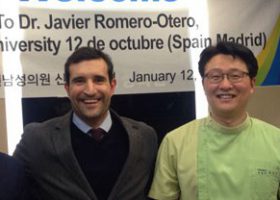 We keep working hard in other parts of the world. We are currently working in Seoul. In this city, we are sharing new chirurgical challenges withsurgeons from many countries to treat several pathologies so Peyronie: Peyronie's disease, penile prostheses, masculine incontinence, vasectomy, prostatic surgery and urethral stricture. The jet-lag has been affecting me for a […]