WHAT IS URINARY INCONTINENCY AND WHAT CAUSES IT?
Although the incidence of urinary incontinence is inferior in men than women, it is a lot more common than thought. As we grow older, incidence also does. However, this is not just a matter of age, as incontinence is directly related to some other conditions: prostate gland enlargement, prostate cancer, neurological disorders (multiple sclerosis, Parkinson's disease and Alzheimer) and some other disorders to a lesser extent, such as diabetes and excess of weight.
There are several types of masculine urinary incontinence. Each of them presents its own specific causes, evaluation methods and treatments.
STRESS URINARY INCONTINENCE (AFTER A PROSTATECTOMY)
Stress urinary incontinence is the most frequent among men. It usually appears after a prostate chirurgical procedure. A certain amount of urine is involuntarily leaked when performing activities such as jumping, coughing or running. In some cases, the patient leaks only a small amount of urine sporadically. However, some patients may experiment a constant and prolonged leak. For the most cases, treatment for stress incontinence is successful. Pelvic floor muscle rehabilitation is the first measure to be taken, followed by surgery if necessary. Depending on the degree of severity, suburethral slings and urinary sphincters may be implanted.
URGE INCONTINENCE
Urge incontinence is defined as an involuntary urine leakage followed by a strong need to evacuate. Prostate gland enlargement (benign prostatic hypertrophy) and a previous intervention are urge incontinence main risk factors. A change of life habits and oral medications are usually enough to control urge incontinence. Botulin toxin can be injected in the bladder in cases where other treatments are not effective.
MIXED INCONTINENCE
Mixed incontinence comprises both stress urinary incontinence and urge incontinence. WHO International Continence Society recommends treating the main symptoms. Treatments for mixed incontinence are non-invasive: change in life habits, bladder retraining and pelvic muscle strengthening exercises. If these techniques are not effective, it is possible to take drugs to prevent the main symptoms. In cases in which drugs do not work, the patient will be referred for a more detailed study.
Blog del Dr. Romero-Otero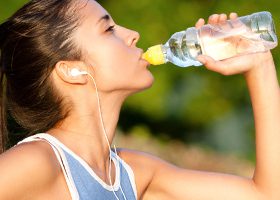 La hidratación recurrente y una dieta mediterránea equlibrada previene la litiasis. La hidratación en verano puede ser un buen aliado para cuidar que no aparezcan problemas urológicos y especialmente el tan temido cálculo renal. Es cierto que llegada esta estación la frecuencia de la ingesta líquida es mayor y la alimentación se centra más en […]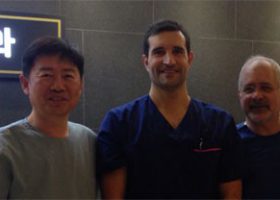 The program will include the implantation of penile prosthesis to treat several conditions. From the 8th to the 18th of January, I will be heading and organizing several activities in collaboration with Coloplast in some of the reference hospitals in Seoul and other important cities of South Korea. The program will include the implantation ofpenile […]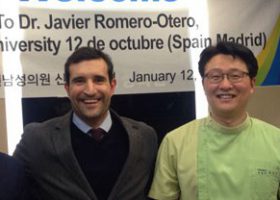 We keep working hard in other parts of the world. We are currently working in Seoul. In this city, we are sharing new chirurgical challenges withsurgeons from many countries to treat several pathologies so Peyronie: Peyronie's disease, penile prostheses, masculine incontinence, vasectomy, prostatic surgery and urethral stricture. The jet-lag has been affecting me for a […]